ABOUT UPJOHNS
UP State Journal of Otorhinolaryngology and Head and Neck Surgery, a publication of Uttar Pradesh Chapter of Association of Otolaryngologists of India is an Open Access journal available in both print version and online version. The Journal was started in 2013 with the aim to publishing double blind peer-reviewed, high quality, original papers in the field of Otorhinolaryngology. The UPJOHNS aims to support highest standard of Research in the field of Otolaryngology. The journal's full text is available online at http://upjohns.co.in/publication.php . The journal allows free access (Open Access) to its contents and permits authors to self-archive final accepted version of the articles on any OAI-compliant institutional / subject-based repository. The journal does not charge for submission, processing or publication of manuscripts and even for color reproduction of photographs.
WE PUBLISH THE FOLLOWING ARTICLE TYPES:
Research papers / Research article / Review article
Editorial / Short communication / Mini review / Letter to the editor
Case reports / Case series / Clinical trial
Book Review / Descriptions of Research Methodology / Opinion


THE AUTHORS GET THE FOLLOWING ADVANTAGES OF PUBLISHING WITH US:
MCI accredited journal, Fast & Free Publication, A highly respected journal in its field, Easy online article submission, Rapid initial screening, Double blind Peer review process by excellent peer reviewers drawn from a best in the discipline of Otolaryngology, Facility of Proof reading before publication, Certificate of Publication given to all authors, Copy of the Print version given to all authors, A unique DOI number will be allotted to all the articles, A very wide visibility to all the article es including Research Gate, All the articles will be immediately uploaded on the website and each articles will have its own URL& fully citable by your peers.
UGC APPROVED JOURNAL:
The Journal also appears in the list of refereed journals by the University Grants Commission as part of Minimum Qualifications for appointment of Teacher and Other Academic Staff in Universities and Colleges and Measures for the Maintenance of Standards in Higher Education (4th Amendment), Regulations, 2016} in the subject of OTORHINOLARYNGOLOGY (ENT), (Number 45 in the PDF copy attached in downloads)
Ownership:
The Journal is owned by Uttar Pradesh Chapter of Association of Otolaryngologists of India which is a registered society (BAR/10427/2021-2022). It bears all the costs related to Journal publication and maintaining the website updated. It also assigns the Editorial board members who decide the Editorial and other policies related to the Journal.
Publishers Address :
Uttar Pradesh Chapter of Association of Otolaryngologists of India (UPAOI)
Office at: Dept. of ENT-Head & Neck Surgery
SRMS Institute of Medical Sciences Bareilly (UP) 243202 India
Distribution:
The Hard copy of the UPJOHNS is widely distributed free of cost amongst all the registered members of Association of Otolaryngologists of India - UP State Branch across the state and to all the authors of that edition. The Journal is distributed free of cost to all the eminent Government and Private Medical Colleges of the Country. It is also distributed to all the eminent Otolaryngologists of India. To receive the Journal kindly become a member of Association of Otolaryngologists of India - UP State Branch, the form of the membership can be downloaded from the website. http://upjohns.co.in/instruction.php
AIM & SCOPE
UPJOHNS is a peer-reviewed, biyearly publication of Uttar Pradesh Chapter of Association of Otolaryngologists of India, UP, India. The journal is published under supervision of the Editorial Board assigned by the Association in the field of Otorhinolaryngology.
UPJOHNS welcomes submission of papers on experimental and clinical researches, case reports, reviews and letters to the editor in Ear, Nose and Throat Diseases & Head and Neck Surgery. Subject areas include, but are not restricted to the following fields:
- Allergy and Immunology
- Cochlear Implants
- Endoscopic Sinus Surgery
- Endoscopic Surgery of Skull-Base
- Facial plastic
- Reconstructive surgery
- Head and Neck Surgery
- Hearing Reconstructive Surgery
- Implantation Otology
- Nasal & Sinus Disease

- Otology and Neurotology
- Phonosurgery and Laryngology
- Rhinology & Septorhinoplasty
- Salivary Gland Surgery
- Thyroid Surgery
- Otology
- Rhinology
- Neuro-otology
- Laryngology
- Labyrinthitis

- Voice disorders
- Speech science
- Head and neck oncology
- Allergy testing
- Immunotherapy
- Audiology
- Pediatric otolaryngology
- Tonsillectomy
- Facelift
- Thyroidectomy
- Rhytidectomy
- Oncosurgery

INDEXING
The UPJOHNS is indexed with Index Copernicus,(2018 / 2019/ 2020), the publications are acceptable in the Medical Council of India. The DOI of the articles is provided by CROSSREF We are also indexed with Scientific Indexing services, DRJI, 12OR, Research bible, IJI Factor, Journal factor, IP Indexing , Root Indexing , Cosmos, Scientific Journal Impact Factor, Eurasian Scientific Journal Index, SCI – Hub, Scilit, Indian Science Abstract, IJ Index, Freewebsubmissions, International Committee for Medical Journal Editors(ICMJE) , International Committee of Medical Journal Editors(IISJ), International Impact Factor Services ( IIFS), Anoox, Semantic Scholar, Worldcat. Indexing in a few other agencies is in process.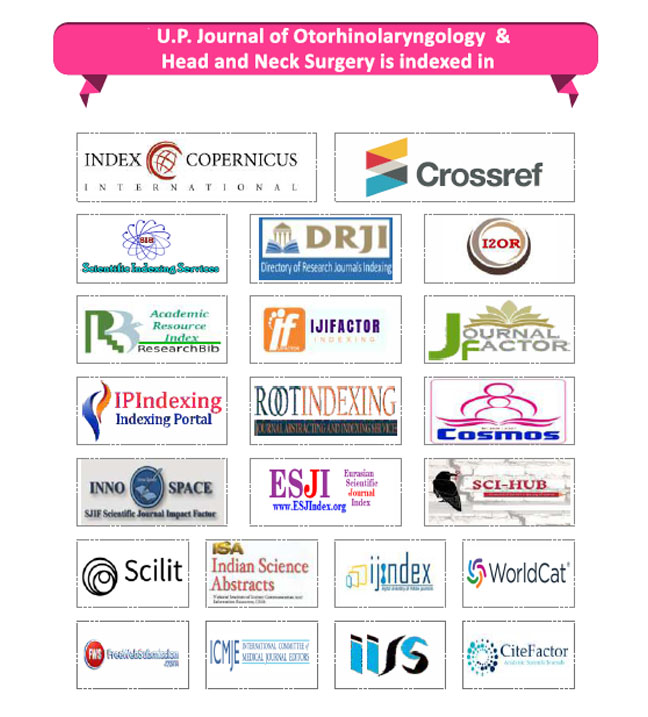 This work is licensed under a Creative Commons Attribution 4.0 International License

Disclaimer: Articles on UP Journal of Otolaryngology Head and Neck Surgery (UPJOHNS) have been previewed and authenticated by the Authors before sending the publication for print. The Journal, Editor and the editorial board are not entitled or liable to either justify or responsible for inaccurate and misleading data if any. It is the sole responsibility of the Author concerned. If any queries or infringement occurs, subject to Lucknow jurisdiction. Read our Plagiarism Policy.
Use of this site signifies your agreement to the Terms of Use
Copyright ©2020-2022 UPJOHNS